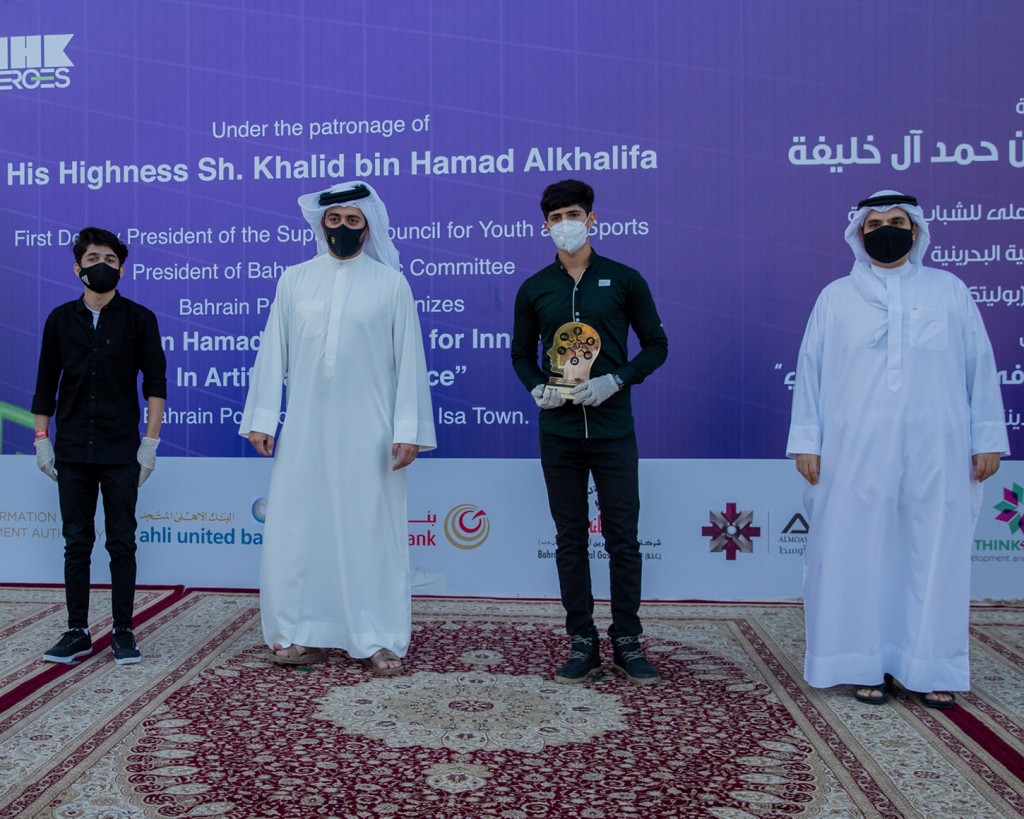 Students:
Hissam Saleh
Mohamed Nabeel

Mentor:
Mohamed Seef el Islam
Waste management 
Trash bins will be equipped with sensors that detect how full they are. When a bin becomes full, a notification with the location of the bin will be sent via the Cloud to the Waste Management Services, who will be able to automatically calculate the optimal route for nearest tracks to collect the trash and avoid overflowing.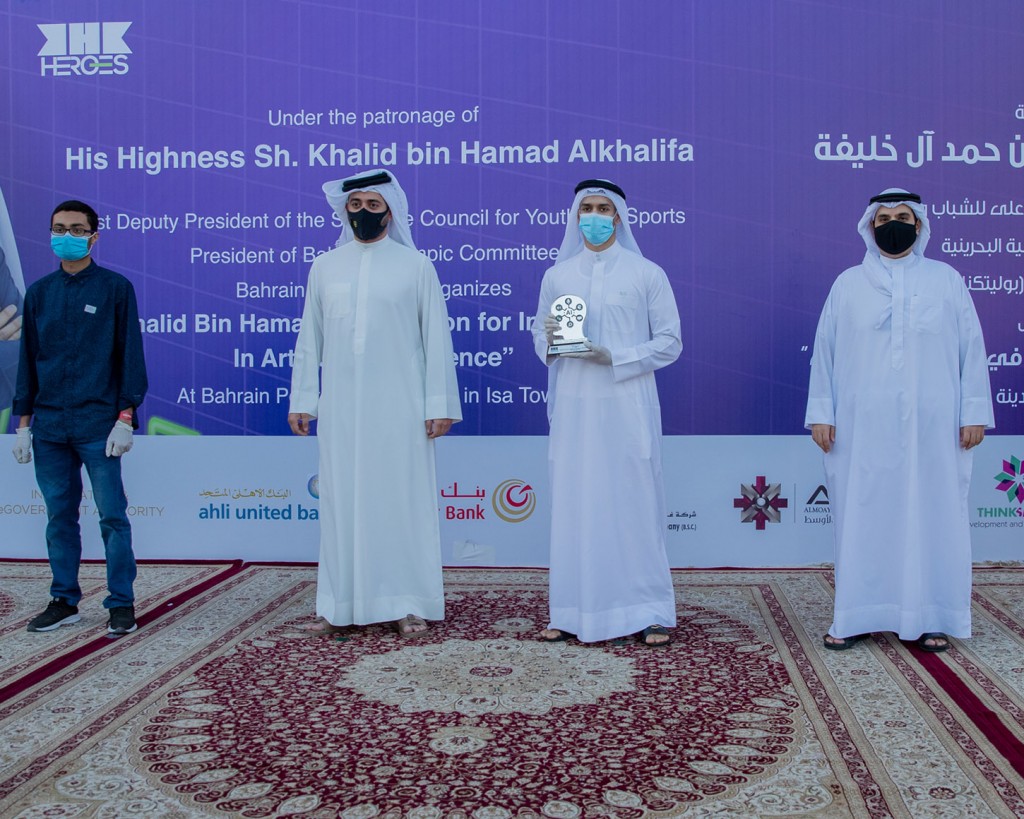 Students:
Ahmed Sultan
Murtadha AlZaki
Social Distance Analysis 
The project performs Social Distance Analysis and Face Mask detection. This is useful not only for various covid-19 related scenarios, but also for monitoring crowd analytics in congested areas, such as theatres, stadiums, shopping malls, to allow decision making in case of emergency or hazardous situations such as a fire.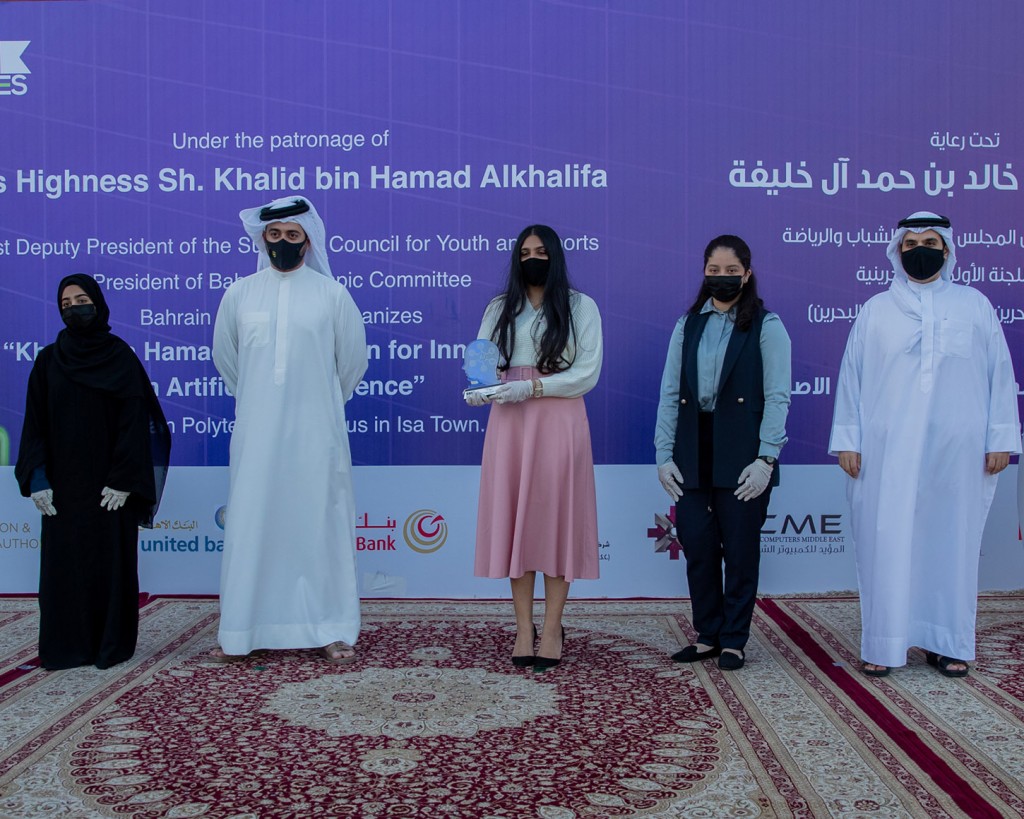 Students:
Sughra Hassan
Siba AlAnsari

Mentor:
Shaima AlMeer
Air Quality Prediction ​
The project uses sensors to calculate air pollutants and performs analysis of air quality in real-time by area and provide predictions. This is extremely useful as this can be used to send real-time notifications with precautions to the public who can then decide to limit outdoor activity during hazardous conditions. In the long term this can have a positive impact in reducing diseases that are caused by pollutants.  
Students:
Abdulla Fareed Abdulrahman
Omar Salman Kamal
Othman Mohammed Albadri
Yousif Khalid Butti
Blind People Tactile Blocks
Tactile blocks are floor areas that have distinctive surface patterns that can be recognized by the touch of an underfoot to pass navigating directions to visually impaired people who have been trained to recognize surface patterns. The current project will combine such blocks with sensors that play audio instructions to further support blind people.
Students:
Ameena Raed Aljazeeri
Noor saeed alnawakhdah
Omaima Yaser Alsamahiji

Mentor:
Saraa Isam Albarazanchi
Pharmacy Application
This application will allow patients to find nearby pharmacies that have stock of a medicine in Bahrain by scanning the doctor's prescription, as well as helping them to order the import of the drug if it is not available in any pharmacy. This information will assist the Ministry of Health in the future in making important decisions appropriate to patients needs and the public interest.
Students:
AlJazyah Yusuf AlArabi
Dana Abdulla AlDoseri
Shahd Ali AlHajri

Mentor:
Abdulaziz Yousif Alarabi
Heart Rate Monitor
The project idea is to detect and monitor electrocardiography (ECG) and identify any anomalies in the signal. In case an anomaly is detected, a notification can be given followed by monitoring notifications that can prompt for a medical visit. This can be used by people who suffer from heart diseases or anyone who would like to trace the function of his / her cardiovascular system. Early intervention in heart related incidents can be lifesaving and this system can be embedded in wearable devices.  

Students:
Afaf Mohamed Alnaser
Kawther Faez Ebrahim

Mentor:
Maleeha Muzafar Ali
Intelligent Minutes of Meetings 
Since the covid-19 pandemic spread, most business meetings are now happening remotely via computers / phones. This creates an opportunity to automate the manual recording of minute meetings. Such manual recording wastes human resources & allows information to be omitted by human error.  The project will develop a tool that converts speech to text, detects the identity of the speaker and categorizes and organizes the text to the required minutes format.  
Students:
Gullem Rassoul Mohamed
Mohamed Amine Amri

Mentor:
Laroussi Attia
Smart Attendance System

The project will offer an automatic attendance recording system that will use face recognition technology to monitor the presence of employees or students. It will use camera sensors that will pass information to the Cloud who will keep records for all employees and use data analysis tools to visualize reports for the management. 
Students:
Hussain Hasan
Mohammed Siddiq
Issue Reporting Tool

The project aims to offer a platform that will help the government and businesses predict unwanted issues and set priorities quickly to address such issues. The platform will use historical data and real time data to make predictions of such issues. An example is traffic jam prediction, but the concept applies to more scenarios.  
Students:
Batool Sayed Ebrahim Ahmed
Maryam Sayed Mohamed Abdulla
Zahraa Mohammed Alekri
Educational Game

The project will be an application and a game designed to be an interactive educational experience for children over 6 years old, offering a wide range of subjects and skills such as science, history, languages (including Arabic and English) and also including the sign language in a simplified and a diversified way Moreover, the application will include a section that is meant to provide parents with the necessary information about their child's progress through our leveled game and achievement badges page for children. 
Students:
Abdulkhaliq Mangat
Mohammed Rauf
Skin Cancer Detection App

The project will make use of the well-developed area of Computer Vision to develop a skin cancer detection application. It would be able to distinguish between 2 or 3 different deadliest cancer types at an early stage. Predicting models would be available as a mobile application so that everyone can use it as early detection of skin cancer allows cures for all cases.